Return To Blog
Think outside the Boxelder
Maple Madness!
---
By Chris Leinster - March 16, 2022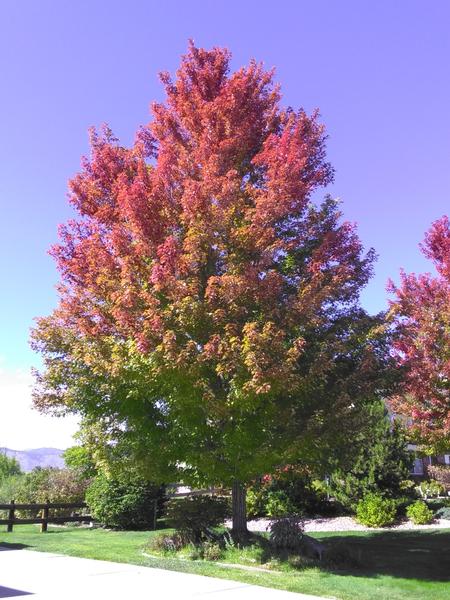 Snow is in the forecast, but trees are arriving daily and it's time to get planting! We're expecting a tree shortage this year so if you're looking for something rare or unusual or if you need larger evergreen trees especially, get 'em before they're gone.
I was hunting for Maple Trees today and trials have shown promise for many new Maple varieties proven to perform well along Colorado's Front Range. For decades, Autumn Blaze Maple has been the standard go-to for a fast-growing shade tree with explosive red Fall color. Autumn Blaze is a hybridized version of the more ancient Silver Maple and Red Maple.
Silver Maple grow incredibly fast, but fast growth means weak wood and those tended to break up in strong winds or late, heavy snowstorms after the leaves had appeared. Silver Maple are also shallow rooted, with roots often breaching the surface and killing the lawn under the tree canopy. Silver Maple are no longer in production, but Autumn Blaze combines the best attributes of Silver Maple with the explosive red Fall color of Red Maple.
Many of my Arborist friends complain that Autumn Blaze is still prone to breakage at maturity, and highly susceptible to iron chlorosis due to our alkaline soil (check out our blog on chlorosis). Still, it is the most ubiquitously planted Maple in Colorado and with diligent watering and fertilizing, it should provide shade for generations. But you don't need to limit yourself to Autumn Blaze. Check out these more recent introductions!
Redpointe Maple- This exciting introduction is proving to be perhaps the best replacement for Autumn Blaze, as it shows superior resistance to iron chlorosis! It sports a strong central leader and more refined branching, maturing into an upright, pyramidal form more narrow than AB. You won't sacrifice Fall color as the Redpointe Maple will illuminate your neighborhood with it's fiery red glow!
Highland Park Maple- Properties seem to get smaller each year as developers seek to pack the most houses into the smallest conceivable space. This disqualifies most maple species for these postage stamp properties, but Highland Park is a smaller stature Maple tree perfectly suitable for our modern McMansions. Indistinguishable from Autumn Blaze but only grows 30' by 20' wide.
State Street Maple- Prefer a golden Fall display? State Street Maple is a medium to large shade tree showing superior heat and drought tolerance as well as resistance to iron chlorosis. Stronger wooded and more densely branched, consider State Street for a hardy Maple that performs well in Colorado's harsh climate.
Rugged Ridge Maple- When I ask, "what kind of tree would you like?", the response is often "the kind that won't die!". As the name suggests, Rugged Ridge Maple is one tough Mamba-Jamba suitable for exposed sites in outlying areas like Castle Rock or out on the plains. Fast-growing with golden Fall color. Its hardiness is perhaps due to its ruggedly handsome protective layer of deeply furrowed, corky bark which develops at a young age. This helps prevent sunscald and frost cracking which can plague young Maple in Colorado's harsh winter sun and wild temperature swings (check out our blog on sunscald).
Rocky Mountain Glow Maple- If you've ever encountered a Maple while hiking the lower foothills just west of town, you've likely discovered our native Rocky Mountain Bigtooth Maple! This tree can be found growing into the deserts of Utah and New Mexico, and upwards of 7,000 feet in altitude. Thus, it is perfect for higher elevations or properties where irrigation may not be practical. Slower growing and smaller stature, Rocky Mountain Glow has been selected for its orange-yellow-red Fall color!
Fairview Maple- Looking for a little more Summer variety in your tree canopy? Fairview is a Norway Maple with burgundy leaves! Especially vibrant in Spring, color dulls somewhat in the heat of Summer but will return with a vengeance in the Fall! Maple generally aren't considered for their flowers, but Fairview's small yellow flowers offer a brief burst of interest in early Spring.
This is merely a sampling of the offerings available to gardeners in and around Denver, and Happy Trees couldn't possibly list them all! Production nurseries are constantly tinkering with plant genetics clamoring to be the first to bring exciting new species into being, and the botanists at CSU among other researchers are diligently testing new introductions to prove their usefulness for commercial production. If you're looking for something other than the standard offerings, simply ask what's available and Happy Trees will peruse our vendors for more exotic suggestions. Use 'Fall Fiesta' for pricing.