Delivery Policies, Disclaimer, and Guarantee
Colorado law requires anyone planting trees to call for a utility locate prior to digging. It"s easy, simply visit http://colorado811.org/ticket-express/ or dial 811. Technicians will be visiting your property within three business days of a locate request. You must leave gates unlocked (if trees are to be planted in fenced areas) and provide access to the property. Pets must stay inside during this time. Technicians do not call to schedule and they may not always knock. Sorry for the inconvenience, again this is required by law. This is to prevent damage to underground utility lines and is for your safety. By law, you cannot dig within 18" of marked utilities. Please adjust accordingly if your desired planting location is within 18" of any painted or flagged line.

The land we believe we own is often under regulation by city ordinances, utility easements, or homeowner"s associations. Because Happy Trees works in every neighborhood in every jurisdiction, it is impossible for Happy Trees to know what rules and laws might apply. It is the homeowner"s responsibility to know what rules govern their property, and to apply for any permits or HOA approval that might be necessary. Contact your city or county planning or forestry department and your homeowners" association prior to planting.
Delivery fee is for curbside drop off, however Happy Trees two-man delivery crew will deliver your trees directly to your planting site, providing the route through the yard is free from obstacles, stairs, narrow gates, unreasonably steep slopes, rough or un-graded ground, retaining walls, or other hazards. Our crews pride themselves that they can deliver your trees to any location, however crews are instructed that in no case shall they put themselves at risk of injury.
We love pets, but please clean up pet waste prior to delivery. For your pet"s safety its best if pets are kept inside or enclosed during delivery.
Warranty: Happy Trees guarantees that trees are free of pests and diseases and are professionally and properly handled during delivery. Happy Trees has no control over the handling of trees after delivery, nor over the care or watering of trees once planted. Therefore, our guarantee policy shares the risk of loss with the party responsible for care after planting. Trees that expire within one year of the delivery date will be guaranteed one-half of the purchase price. This is a 50% credit of the original purchase price toward the purchase of a replacement tree. The guarantee is a one-time replacement only. Replacement trees are not guaranteed.
Happy Trees is not responsible for damage due to severe weather, lawnmowers or other equipment, vehicles, animals, vandalism, negligence, or other acts of God.
Standard Planting Package
---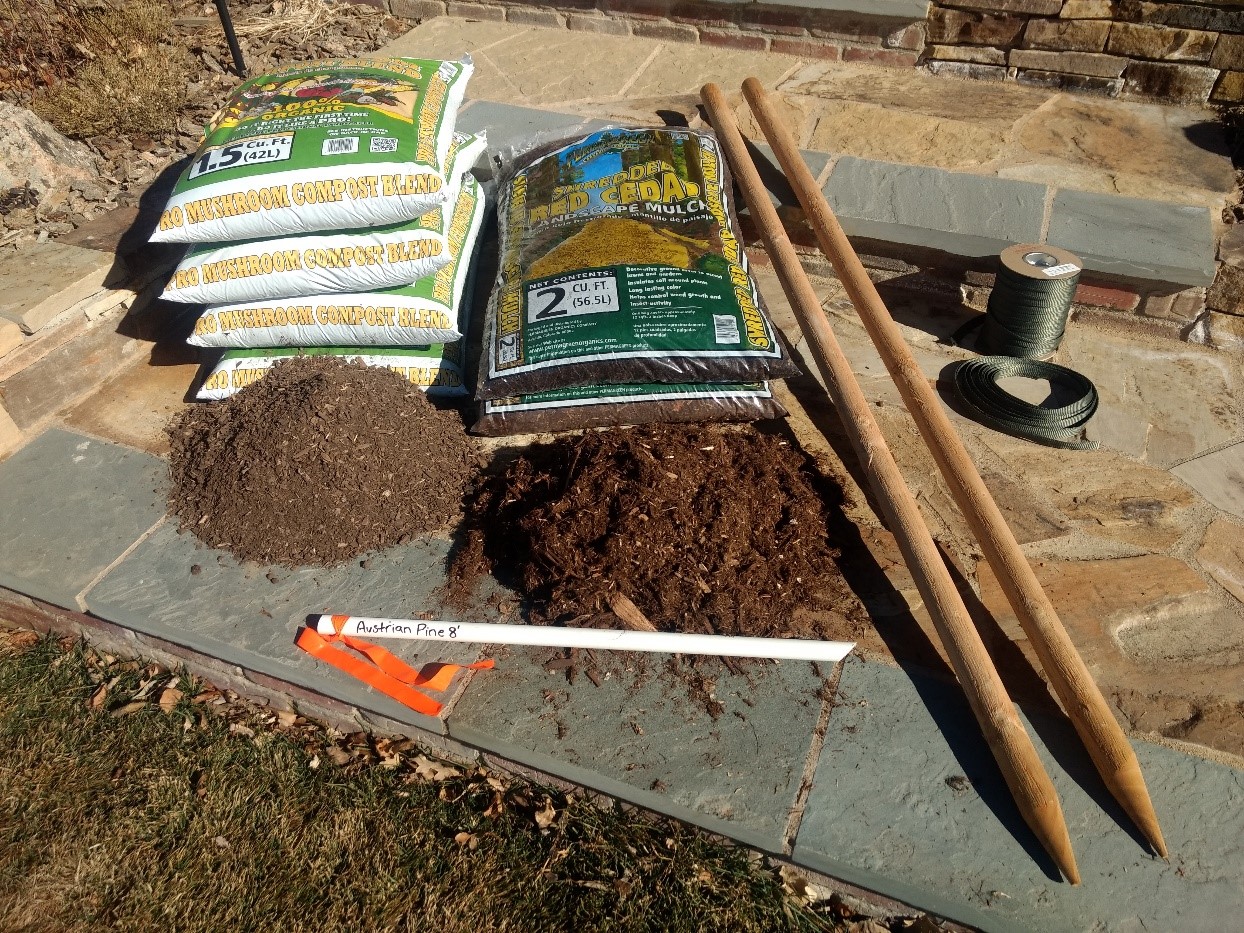 The planting packing includes:
6 Cubic Feet of Compost (depending on size of root ball)
4 Cubic Feet of Shredded Cedar Mulch
2 Tree Stakes (Lodgepole or Steel T-posts)
20' Nylos Tree Strap or Guy Wire
PVC Marker Stake - doubles as water guage!
Actual brands may be different than shown