Return To Blog
What are those trees with the magnificant Pink Flowers?
And where can I buy them?
---
By Chris Leinster - April 23, 2019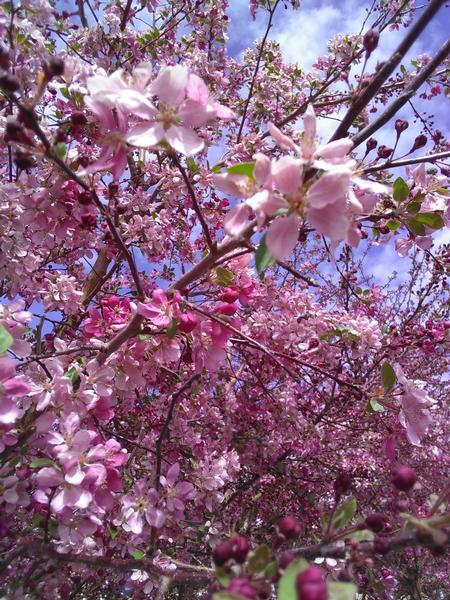 Spring flowering trees are bursting into bloom bringing delightful color to our home landscapes. Happy Trees delivers and plants large trees so you can experience this beauty and wonder in your own yard! Follow the links for pricing and planting information…
Pink Flowering Prairiefire Crabapple http://happytrees.co/products/7263/Prairiefire-Crabapple
Fuchsia colored Royal Raindrops Crabapple http://happytrees.co/products/7256/Royal-Raindrops-Crabapple
White flowering and fruitless Spring Snow Crabapple http://happytrees.co/products/7255/Spring-Snow-Crabapple
Crabapple are among the hardiest flowering trees with the showiest display of colorful blooms. They have prolific flowers that can range from ruby red, pink, fuchsia, lavender, or white depending on the variety. I prefer to stick with varieties that produce tiny fruits that persist on the tree and dry up like raisins for the birds to snack on throughout the winter.
Newport plum have delightful pink flowers and burgundy leaves throughout the summer http://happytrees.co/products/7225/Newport-Plum
Canada Red Cherry have showers of white flowers followed by glossy green leaves that fade to burgundy. In June, new bright green growth appears on burgundy branches for a two-tone effect. Check them out! http://happytrees.co/products/7267/Canada-Red-Cherry
Chanticleer Pear are valued for their upright oval appearance, abundant white spring flowers, and a burst of red-orange-yellow fall color! http://happytrees.co/products/7218/Chanticleer-Pear
These are just some of the spring flowering trees available for planting right now. If you don't see what you want just click or call and Happy Trees will help you find exactly what you are looking for and we'll do the shopping for you.
Happy Trees is the easiest way for you to buy trees! You don't need to waste your weekend driving out to the country to shop for trees. Happy Trees will help you determine the best tree for your needs and we will email or text photos of the available trees for your consideration. Once you accept your trees our crews will deliver and plant them for you. It's easy! Give Happy Trees a call today! (720) 343-7263.