Return To Blog
Happy Trees Pro Winter Preparation Tips!
How to get your trees ready for Winter's wrath...
---
By Chris Leinster - October 10, 2021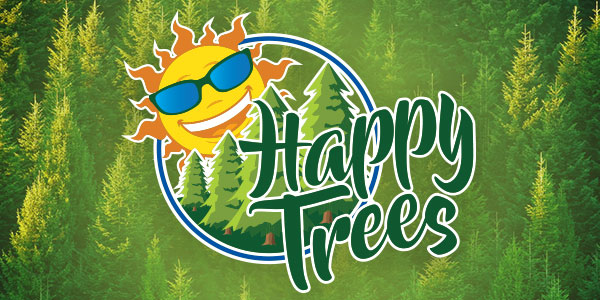 Winter Watering- Winter is creeping in and you will soon be shutting down your irrigation system. Did you know that roots continue to grow even if the leaves have dropped from the tree? It's important to keep some moisture in the ground over the winter months. A hard freeze with bone dry soil can be very stressful on your plants. With our dry air your soil can dehydrate in just a few days.
Keep checking your soil moisture and drag the hoses out to water as necessary, probably not more than once every other week. This advice is appropriate for all of your landscape plants, even your lawn! This is especially true for your mature evergreen trees like Pine and Spruce. You don't need to water if the ground is frozen or if there is snow on the ground. Be sure to disconnect your hose from the spigot after watering to protect from freeze damage, and you may want to drain the water from your hoses as well.
Winter Wrap- Young trees are susceptible to sun scald over the winter months. Sun scald dries out the trunk, splitting the bark and potentially killing the trees. Please winter wrap your young trees to shield the vulnerable trunks from desiccating winter sun. You can learn more about winter wrap on my blog…
http://happytrees.co/blog/16966/How-to-prevent-sun-scald-
And see a video here!-   https://youtu.be/5s4hlWEWCew
Unable or just don't want to bother? Happy Trees now offers this service for a $75 trip charge. Includes all 2021 Happy Trees! Additional trees $5 each.
Tree Tying- Many upright trees, especially evergreens like Juniper and Fastigiate Spruce, are susceptible to damage from heavy snow loads or ice storms. Multiple stemmed trees such as Serviceberry or Columnar Buckthorn can have this problem too. Wrap the trees loosely with twine or tree ties that can be purchased at any big box store or your local garden center. You're not cinching the trees tightly. The idea is to loosely wrap the trees to give the branches support so they don't splay open under heavy snow loads.
Follow this link to watch a very poorly made video of me tying a tree!-
https://youtu.be/r44aHmdQIYw
No time or just don't want to get poked by Juniper needles? Happy Trees now offers this service for a $75 trip charge. Includes all 2021 Happy Trees! Additional trees $15 each.
Snow Removal- Heavy snow loads can snap branches or bend trunks of young trees over to the ground. Trees are particularly vulnerable if early snows strike before the leaves have fallen, or with late spring snows after leaves have emerged. Throw on the snow boots and gently shake the snow off your young trees during heavy storms if snow accumulates on the branches and twigs.
Tree stake removal and disposal- If your trees were planted this year, please leave the tree stakes and supports in place through the Spring growing season. They can be removed in late June/ July. If your tree was planted last year or prior, you may now remove the stakes. They will usually wiggle out of the ground. If they break, pound what's left into the ground and bury it.
Happy Trees now offers this service! $75 trip charge includes all Happy Trees.
That's about all you need to know to keep your Colorado trees happy and healthy through our harsh winters. No landscape company can warranty against winter storm damage, so please protect your investment and follow our guidance! Call or reply with whatever questions you may have, or to schedule for our services.
https://www.facebook.com/HappyTrees.co/
https://nextdoor.com/pages/happy-trees-llc-westminster-co/recommend/
Thank you for your consideration of Happy Trees and call or reply with whatever you may need!