Return To Blog
New trees arriving daily!
Including large caliper and hard to find varieties!
---
By Chris Leinster - March 31, 2021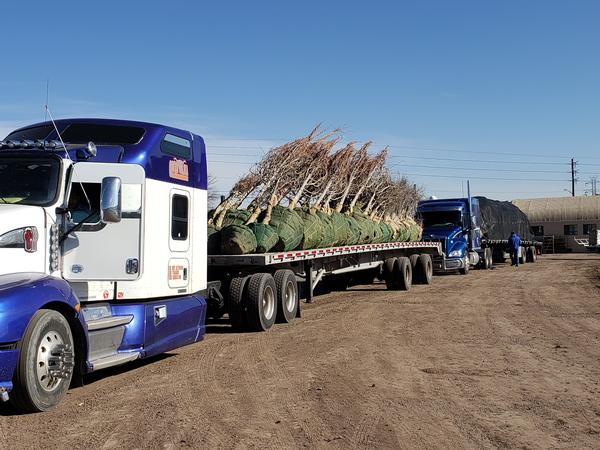 Spring is a time of tremendous transformation. As the soil warms up plants begin pushing out flower and leaf buds and plunging their roots deeply into the soil. Grass blades and Dandelions sprout from the ground and millions of tiny insects awaken to start crawling all over the garden and buzzing about in the air.
It's a time of amazing transformation in nurseries and garden centers up and down the Front Range as well, as convoys of tractor trailers begin delivering truckloads of trees and shrubs filling up display beds and storage lots. It's a flurry of activity that's dizzying to watch, as tractors rumble about unloading thousands of trees and organizing them neatly into assigned rows. Contractors begin piling into the nurseries as well, plucking newly arrived trees off the lots nearly as soon as they get off-loaded.
The great news for the consumer is that inventories are filling up and we have a great selection of trees from which to choose. This includes large caliper 3-4" trees that will be difficult to source as time goes by. Many outlier varieties are stocking up as well. While most standard or popular trees are being dug in mass and stored for shipment later in the season, lesser known or rarely used trees will sell out and may not be available until next spring.
Fruit trees, for example, are spring dug and delivered and stocks will typically not be replenished through the summer. As a result, if you're considering planting large caliper fruit trees now is the time to act! I currently have 2 to 2-1/2" caliper Plum, Peach, Apple, Pear, and Cherry in several assorted varieties, and some limited 3" as well. These should be considered for their ornamental flowering and leaf attributes as well as for their delicious fruits! I even have grafted 4-varieties-on-one-tree available in espalier form in both Apple and Pear! They are a bit of a hobby requiring pest management and of course, harvesting, but well worth the effort and you will be rewarded. Once they're gone, they're gone till next season, so plant yourself a fruit tree and enjoy the benefits of harvesting your own orchard.
I have a bumper crop of Oak, Maple, Ornamental Pear, Linden, Honeylocust, and Catalpa in larger sizes up to 3-4"! These monsters will provide instant privacy and shade, and many can easily reach your roof line upon planting. We need open access and sometimes tractor access to get these planted, but if you have the space and the budget we can add these titans to your landscape. Large caliper shade and ornamental trees are in short supply later in the season, so if you need monster trees don't delay and call Happy Trees today!
Under-utilized and lesser-known trees are now arriving as well. We'll see shipments of common trees throughout the summer, but the boutique trees can be hard to find once the spring rush is over. Make your yard stand out from the neighbors' Oak, Maple, and other ubiquitous trees with the addition of an exotic Yellowwood or Pagoda Tree! Sweetgum, Tulip Tree, European Mountain Ash, Horsechestnut, and Kentucky Coffeetree can all find space in our suburban landscapes but somehow get passed over for traditional tried and true standards. If you're one who prides herself on her yard, transform your home into your own private botanical garden with the addition of one or more of these exceptional specimen trees.
Regular Pine and Spruce will be plentiful throughout the summer, but the hybridized versions may disappear as the weeks go by. Got a narrow space between houses that needs screening? Fastigiate Spruce or Arnold Sentinel Pine might be just the tree you need. Want the ultra-symetrical and electric blue 'Baby Blue Eyes' Spruce? There are currently plenty of perfect trees in stock, but better hurry before they sell out.
Planting at this time has additional advantages. Trees that are transported and planted while still dormant will "wake up" in your yard. This avoids the transplant shock that can sometimes (but rarely) affect trees planted during the heat stress of summer. You'll instantly enjoy the display on spring flowering trees and they will achieve a full season's root establishment. Happy Trees delivers and plants trees throughout the summer and even through October, but if you have tree planting in your future why not do it today? Give Happy Trees a call and have a great day!