Return To Blog
Cooler temperatures and rain in the forecast!
Fall is for Planting!
---
By Chris Leinster - August 28, 2020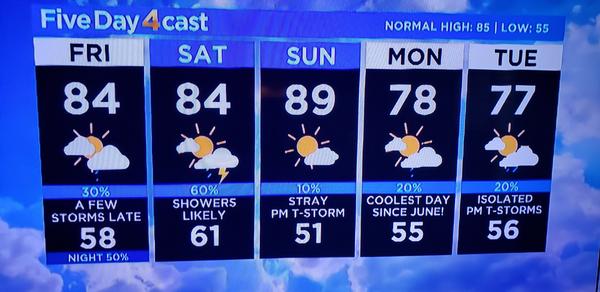 Halloween decorations are filling the shelves of the big box stores and pumpkin spice lattes are back on the menu of your favorite coffee shop. Fall is for harvesting, but fall is also great for planting! If you've been waiting for Fall to plant the trees on your wish list, now is the time to take action.
A late summer cold front is descending upon us and cooler temperatures and rain is in the forecast. This is such a welcome blessing after the blistering heat of summer. August alone saw 15 days above 95 degrees! While Happy Trees plants daily all summer long with great success, trees appreciate fall's cooler temperatures and increased precipitation that help reduce the stress of transport and planting. Now is a great time to plant trees!
Truth be told, there's never really a great time to plant in Colorado. Most of the trees we enjoy in our yards could never exist here without human assistance and care. The ground is frozen for most of winter making planting impossible. Spring brings late frosts, snow squalls, and hail. Summer's heat is stressful for newly planted trees. Fall can see early cold snaps, but for the next few weeks we have a window of opportunity where the weather cooperates to benefit the planting of trees.
Cooler temperatures and diminished daylight trigger trees to plunge their roots deeply into the soil in anticipation of winter's wrath. We still have several weeks for trees to hunker down, in fact, now is a great time to fertilize established deciduous trees as they soak up nutrients to support root growth and other metabolic processes. The exception would be evergreen trees like Pine and Spruce. Don't fertilize evergreens in the fall as it could trigger new top growth that would be too tender to withstand winter's freezing temperatures.
As long as we're on the topic of fertilization, now is the right time to fertilize your lawn. Bluegrass lawns are also triggered by shorter days and cooler temperatures. They stretch their roots deeply into the ground during this time of year. They need nutrients to do this, and nutrients are often in short supply after the stress of summer. Back east, the acronym for fertilizing is SOD, shorthand for September, October, and December, which are the ideal months for fall fertilizer application. In Colorado, bump that up a few weeks, starting in late August and finishing in November before the ground freezes for good. More on that topic can be found here…http://happytrees.co/blog/16542/Fall-Fertilization-
This time of year some varieties of trees are in short supply, and those that remain may be showing signs of stress such as leaf scorch. Because Happy Trees shops wholesalers up and down the Front Range, we can locate and select only the healthiest and happiest trees remaining on the lots. I personally pick the trees you've requested, and I would never deliver a tree that I wouldn't be proud to display in my own yard.
Pay attention to the weather in the coming weeks and be sure to adjust your irrigation system as needed. Your lawn and plants, particularly newly planted trees may not need as much water as you were pumping out over the summer, so check your soil moisture and water only when necessary. Having said that, make sure your plants have adequate moisture in the soil as winter approaches, even after you shut down your irrigation system. More on winter watering can be found here…http://happytrees.co/blog/20673/Warm-days-and-Cold-Nights
2020 has been a wild, whacky year. Many of us are feeling stressed and overwhelmed by the images and rhetoric flashing across our news feeds and social media. I am never more at peace than when walking through a shaded forest. Happy Trees can bring some of that calming sensation into your yard by planting trees that screen unsightly views, provide cooling shade, and give you something beautiful to admire in your landscape. Or maybe you're stuck at home and sick of looking at your neighbor. Whatever you desire, Happy Trees can help you select the best trees for your needs, and fall is an excellent time to plant the trees of your dreams!
Chris Leinster
www.HappyTrees.CO
(720) 343-7263
Chris@HappyTrees.CO