Return To Blog
Summer Flowering Trees
Bring a little color to your summer landscape!
---
By Chris Leinster - July 27, 2020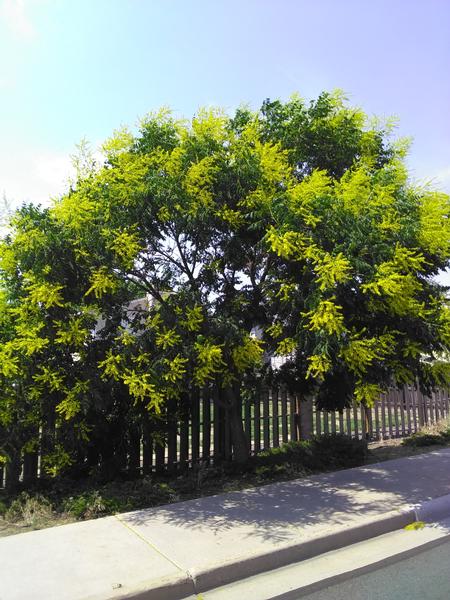 We generally don't think of summer as the best season for flowering trees, and with good reason. Most flowering trees release their cacophony of color just as the snow melts in early spring. These include all flowering fruit trees such as Pear, Cherry, and Crabapple, as well as Kentucky Coffeetree and Redbud.
There are a few late bloomers however that when added to your yard can extend the season of bloom in your overhead tree canopy through summer and even into fall. Consider adding one or a few of these specimens to keep your neighbors talking about your garden all summer long!
Japanese Tree Lilac, Hawthorn, and Catalpa begin blooming just as the petals of the aforementioned ornamental fruit trees drop. That is to say late May and extending through June.
As the name suggests, Japanese Tree Lilac is a tree form of the Lilac or Syringa family, and is often displayed as a multiple stemmed tree with 3-5 main trunks branching up from the ground. The White flowers are typical of the Lilac you're familiar with. The cinnamon bark adds winter interest. They are a smaller tree reaching 25' with an upright habit of 10-15' wide.
There are many trees in the Hawthorn family with similar outstanding attributes. They are covered with white flowers in late spring/ early summer. They have glossy green leaves that turn a red-orange-yellow in the fall. The trunks and bark of most Hawthorn trees often becomes gnarled and twisted as they mature, giving the trees an enchanted feel. The brightly colored berries can be messy but put out a bright display of orange or red mid-summer interest.
The mighty Catalpa have large, tropical leaves that invoke scenes from Hawaii rather than Colorado, but they are quite hardy here. The pitcher shaped flowers are tropical looking as well, appearing white from a distance but the throats reveal delightful purple-speckled coloring when admired up close. Bring them inside for table ornaments! These flower in June as well. The downside are the large, bean like pods that drop in the fall, but they are no more troublesome than raking up leaves and they can be left in the garden for a decorative organic mulch.
Linden trees generally aren't considered flowering trees but they do in fact bloom in late June and into July. The flowers are a lime-green and aren't particularly showy, but they produce a two-toned light green against a deep green leaf, and the blossoms are quite fragrant.
Tulip trees have among the most splendid and showy orange-yellow flowers appearing in June into July. They are in the Poplar family along with Cottonwood and Aspen, so they grow here but do best in protected areas like downtown Denver. The flowers sit atop the branches in an upright fashion, so they are best viewed from a second story deck or window.
Purple Smoketree and Rose of Sharon straddle the line between large shrubs or small trees. Both can be purchased as small five gallon shrubs and allowed to mature, but larger specimens and even single-trunked tree form plants are commonly available. Purple Smoketree have burgundy leaves and get up to 15' tall. The wispy flowers hover above the foliage and resembles smoke wafting over the plants, hence the name. Rose of Sharon are in the Hibiscus family and sport amazing tropical looking flowers from July through frost. They are available in a wide variety of colors and can be either disc shaped or star clusters that will bloom until frost! They make an excellent patio tree or focal point. http://happytrees.co/blog/21017/Large-shrubs-small-trees-for-your-landscape-
Japanese Pagoda Trees have panicles of creamy white flowers that don't bloom until late summer and into September. The green bark, fern-like leaves, and pea-like flowers evoke a Japanese garden in a far-off land. They do well here, but they are akin to Willow trees with shallow roots and messy habit. They are continuously shedding seeds and branches so they are perhaps best planted in your neighbor's yard.
A very under-used and little known small tree is Hepticodium or Seven Son Flower. The white flowers are just beginning to appear as I write this in late July. The flowers give way to bright red calyces for an additional burst of interest before winter reclaims the land. You can read more about Seven Son Flower on my blog… http://happytrees.co/blog/20987/Heptacodium-Seven-Son-Flower
My personal favorite for summer color is the fabled Golden Raintree. Showers of bright yellow flowers sprinkle over the foliage in mid-summer giving the tree its name. It too has a tropical looking feel with a coarse appearance in winter. The flowers are followed by air-filled seed pods that resemble Chinese lanterns that decorate the tree into fall. Yellow is such an unusual color for a flowering tree. Plant one in your yard for your whole neighborhood to enjoy!
Most flowering trees deliver their payload in early spring, but with thoughtful selection flowering trees can spice up your landscape well into summer and beyond. From tiny patio trees like Rose of Sharon to massive shade trees like Japanese Pagoda Tree, there's a summer-flowering tree for every yard!