Return To Blog
Overstock Sale!
25% off 3" Caliper Brandon Elm only $850 delivered and installed!
---
By Chris Leinster - July 10, 2020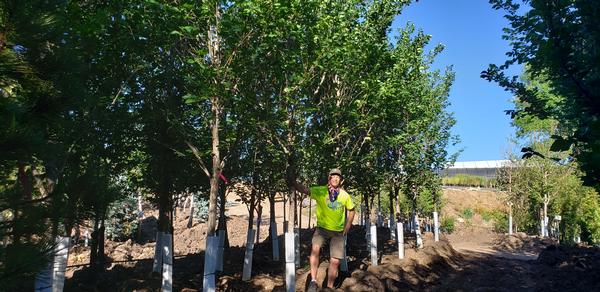 These Brandon Elm in excellent condition regularly retail for $1,125 each. For a limited time, Happy Trees can offer 25% off for a savings of $275 per tree! This amazing price of $850 includes delivery and planting. Installation includes our Planting Package which consists of organic compost to enrich the soil, stakes and strap to support the tree after planting, a water gauge to help you monitor your trees' water needs, and top dress mulch to suppress weeds and to help cool the soil and retain ground moisture. Our planting package is a $50 value, but we offer it FREE with our professional installation services!
We'll even add microbial fertilizer from Fox Farm to introduce beneficial bacteria and fungi into the root zone. Bacteria and Fungi sounds disgusting, but these essential micro-organisms colonize in the soil and break down organic material into simple compounds that the trees can take up as food. The root zone below ground is a living, breathing ecosystem, and Fox Farm microbial fertilizers help establish a healthy environment to get your trees off to a great start.
Brandon Elm are a fast-growing variety of American Elm with an upright, vase-shaped habit reaching heights of 50' with a 30' spread. They have an over-arching canopy and make an excellent street tree or shade tree over a patio. They are relatively clean, producing no fruits or seeds to clutter up the yard. It has gold fall color to brighten up any landscape. It's about as cold hardy a tree as can be found anywhere in Colorado, and can be found growing far into northern Canada!
Brandon Elm make a suitable replacement for your Ash trees which may have succumbed to the Emerald Ash Borer. They can be mistaken for Zelkova trees, which have graceful arching branches but are less hardy in our harsh climate. They are widely adaptable and can tolerate a wide variety of adverse conditions, such as drought or swampy soil.
It must be noted that Brandon Elm is susceptible to Dutch Elm Disease which swept through the country in the early part of the 20th century and decimated Elm trees throughout Colorado. Dutch Elm Disease has largely run its course, mostly because there are few host species left to infect. Colorado's harsh climate and dry air provide effective barriers to re-introduction of the disease, and Brandon Elm are seeing a resurgence in popularity. As with any tree planted in Colorado, good cultural practices to keep your trees healthy are the best preventative to help trees resist any biological attack.
These 3" caliper Brandon Elm trees tower upwards of 20' high! This is an exceptional price and is only available while quantities last. If you need instant shade or privacy on a budget Happy Trees is proud to offer these under-used quality trees at a discount. Call Happy Trees today or shop on-line at http://happytrees.co/Contact-Us.