Return To Blog
Large shrubs/ small trees for your landscape.
4-6' B&B shrubs available now!
---
By Chris Leinster - March 31, 2020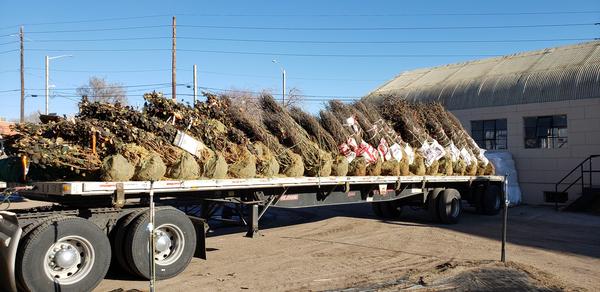 Happy Trees is your premier source to have large caliper balled and burlapped trees delivered and professionally planted for you. But if its mature shrubs you want, Happy Trees can provide those too! There are many shrubs that straddle the line between large shrubs and small trees, generally considered around 15'. Rose of Sharon, Purple Smoketree, Viburnum, Serviceberry, Lilac, and many others are generally considered shrubs or bushes but can be trained into multi-stem trees.
Most of the aforementioned shrubs are commonly available only in 5 gallon containers that will take several years to reach maturity. Most homeowners can transport these and perform their own planting. If you need screening immediately or if you just want instant gratification, Happy Trees has a great selection of 4-6' balled and burlapped Viburnum and Rose of Sharon, and expects to see Purple Smoketree and Lilac in the coming weeks.
https://youtu.be/Qy8od-IzV_c
Viburnum have a profusion of white flowers in late spring followed by glossy green leaves and colorful berries that add late season interest. Fall colors range from yellow-orange-burgundy, and they perform quite well for our climate. Most reach 15', but smaller varieties are available.
Rose of Sharon are slender shrubs with an upright branching habit that can reach heights over 10' tall. They're not a rose, but rather belong to the Hibiscus family. They have very large tropical looking flowers that bloom later in the season to give you a progression of bloom. They open up in late June or July and will continue to pump out flowers until frost.
Lilac are among the most familiar shrubs for North American landscapes, and with good reason. They are one of the earliest shrubs to come into bloom and their delightfully fragrant blossoms signal winter's end. Colors range from white, pink, lavender, and purple. We wish the flowers lasted longer, but they are hardy and adaptable for our Colorado climate.
Purple Smoketree is an unusual shrub or small tree to give your yard a focal point or a conversation piece. Graceful branches support burgundy leaves. The flowers are lacy and airy, giving the appearance of smoke wafting off the plant in mid-summer.
All of these are ideal for smaller properties or tight spaces. If you need a tree or shrub for privacy, shade, or just something unusual and beautiful to brighten your day, Happy Trees can help you find the perfect tree for your needs.
CAVID-19 update- Happy Trees is committed to supporting our employees and serving our customers during this health and economic crisis. Agriculture and construction are exempt from the stay at home orders, and we perform agricultural construction. We are following the guidelines of the CDC and the WHO, as well as local and state health agencies. We are sanitizing vehicle cabins and tools, and our workers are able to distance themselves from our clients and each other while performing their work. If you're stuck at home and you've been thinking about adding a tree, no need to wait, give us a call today!