Return To Blog
Heptacodium, Seven-Son Flower
Add a unique specimen to brighten your landscape!
---
By Chris Leinster - March 25, 2020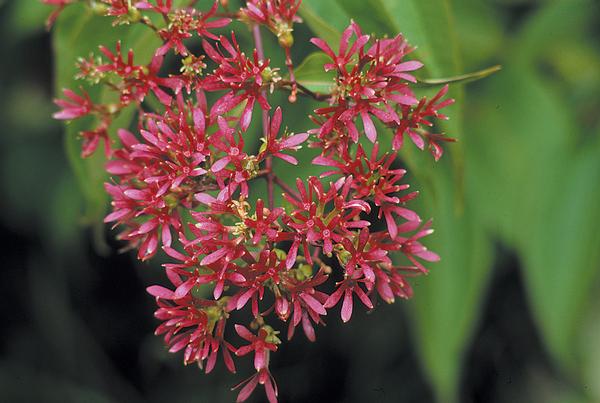 Plant geeks of the world unite! You pride yourself on the remarkable array of distinguished and unusual plants you've cultivated in your gardens. You gave up after your third attempt at Japanese Maple, but you've trained your Purple Smoketree shrub into a graceful and elegant multi-stem tree. You've failed with every type of Rhododendron you've tried, but your Bamboo is finally taking off after it's third year in the ground. Your Tri-color Beech stops traffic when the pink leaves first emerge, but you're still not satisfied and are seeking that next conversation piece to add that "wow" factor to your landscape. Ladies and Gentlemen, I give you Seven-Son Flower!
Seven-Son Flower is a recent introduction from China that is swiftly gaining popularity and familiarity in commercial production. Rated to Zone 5, it is marginal along Colorado's Front Range, but seems to be adaptable to our soils and climate. I planted one at the Westminster Botanic Gardens/ world headquarters of Happy Trees, and it has survived the winter and is budding out with no noticeable die-back as I write this on March 25th.
https://youtu.be/9zT8Yxdvqwg
Seven-Son Flower is a large shrub or small tree, often multiple-stemmed, but can be trained into a single-trunk form. Its slender upright habit will reach a height of 15-20' with a 10' spread. Its creamy white flowers appear late in the summer, long after most of your flowering trees and shrubs have shed their petals, so it provides that progression of bloom to give interest late into fall. After the flowers, ruby-red calyces form to add another burst of interest before winter reclaims the land. Another notable attribute is the exfoliating bark that peels off to reveal a calico patchwork of cinnamon, tan, and brown tones.
Seven-Son Flower reminds me of the Crepe Myrtle trees that decorated the Virginia coastline of my misspent youth. A comprehensive description and pictures can be found at the Missouri Botanic Gardens. These are a bit of a boutique item, so they're not featured on the Happy Trees' website. For a limited time, 1-3/4" caliper trees can be delivered and installed for $715, and 7' clump form trees are $825. As always, planting includes our planting package consisting of compost soil amendment, microbial fertilizer, lodgepole tree supports, and top-dress mulch. Hurry, the supply is limited and once sold we won't see them until next spring.
You don't need to be a botanist or even an avid gardener to plant and appreciate Seven-Son Flower in your yard. They are actually fairly hardy and relatively care-free with minimal maintenance needs. You may want to trim some stray branches to give it a desired shape, but they will mature quite nicely all on their own. Seven-Son Flower is the perfect addition to any landscape, whether you need a small tree to shade a patio, another specimen for the "tropical" themed garden, a point of interest for a meditation garden or the Japanese garden, or a unique focal point for your entryway.
CORONA VIRUS UPDATE- So called "shelter-in-place" laws are being enacted across the state, as if COVID-19 was an active shooter from which you need to katy-bar the door. The Colorado Nursery and Greenhouse association has lobbied hard to ensure that the green industry is included in the list of "essential" operations, along with construction, including landscape construction.
Following guidelines from the CDC and WHO, landscape construction activities are considered low-risk. Workers can maintain a safe distance from customers and from one another, and precautions are in place to ensure the safety of our customers and employees. Tools and vehicle cabins are being sanitized and workers are using hand sanitizer and gloves.
Happy Trees intends to remain open for business during this crisis. We pay among the highest wages in the industry for our labor, but still many of our employees live hand-to-mouth. If you've been contemplating planting a tree, please help keep the economy humming and give us a call!