Return To Blog
Clemson wins the 2019 National Championship!
Happy Trees aspires to be like Clemson
---
By Chris Leinster - January 10, 2019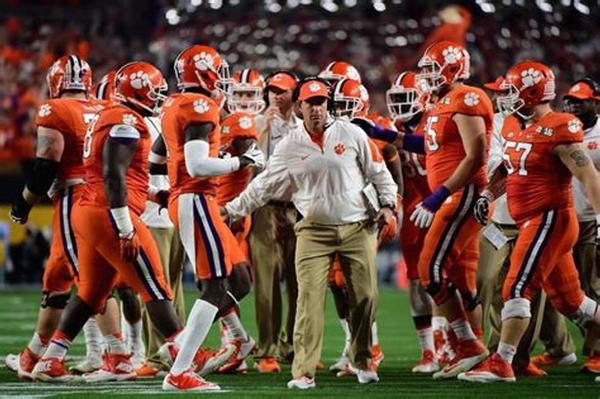 It's January and no one is much thinking about buying trees, so this week's blog is going to be a bit different. I'd like to talk about the Clemson Tigers who just won the Collegiate National Championship! I'm proud to be a Clemson alumnus, class of '92. I'm even prouder that the character of head coach Dabo Swinney and the culture that he brings to the Clemson Tigers beat the despicable vitriol of Alabama head coach Nick Saban.

The success culture that Swinney nurtures among the Tigers is the same ethos that I try to incubate within the Happy Trees community, and it turns out I've had a small influence upon the Tiger culture into which Dabo Swinney built a championship team! Let me explain…
I discovered Rugby upon my arrival at Clemson. I had been a high school athlete with some promise but it wasn't until Rugby that the pure essence of sport was unveiled to me. Rugby evolved from Soccer and spawned Football. It marries the physicality and violence of Football with the fluidity and finesse of Soccer. With Rugby I learned that every player has a specific role to perform and each must perform with intense exceptionalism in order for the team to succeed. But to be a champion, every player must know and exploit the talents and habits of his fellow mates as well as his opponents. When this happens, you can execute plays with inspired brilliance, as if playing in the Matrix able to bend the physical universe to your will.
I've experienced this level of synergy with other pursuits like restaurant and construction work. Great restaurants depend on hostesses, waiters, bus boys, cooks, bartenders, dishwashers, and managers all working harmoniously under a high-pressure environment. If anyone in the chain of service is off her game the whole assembly stumbles and the customers suffer.

Same with home construction. If the foundation guy is off by a fraction, it jeopardizes the entire structure! Great companies strive to make sure that everyone involved is maximizing their efforts to achieve a flawless execution of an impeccable product. Again, these are principles I try to instill within the Happy Trees organization, but I digress…
In April 2017 I traveled back to South Carolina to celebrate Clemson Rugby's 50th anniversary. It was great to reconnect with old friends and to revel with generations of players who proudly formed a brotherhood around the sport of Rugby and the college of Clemson. The keynote speaker at the banquet was Sir Graham Henry, former head coach of the Rugby World Champion New Zealand All Blacks, widely regarded as the best Rugby club in the world. Sir Graham Henry is recognized one of the most successful Rugby coaches of all time.
During his stay we arranged for coach Henry to meet Dabo Swinney, who had led the Tigers to National Championship victory the previous year. They spoke for over an hour about sports culture and success, but it was later reported that Swinney didn't fully grasp that he was courting Rugby royalty. This is forgivable given that while Rugby dominates much of the rest of the globe, it struggles to find an audience in America. But imagine chatting with Joe Sakic or John Elway not realizing you stood among giants!
Henry gifted Swinney with a copy of the book "Legacy", which chronicles the feats of the All Blacks and delves into Sir Henry's philosophy that creates and sustains a culture of greatness. Reportedly Swinney absorbed the knowledge contained within and inspired his team to perpetually escalate their efforts. Some of Legacy's notable quotes are as follows…
"The challenge is to always improve, to always get better, even when you are the best. Especially when you are the best."
"You get nowhere without character. Character is essential to individuals and their cumulative character is the backbone of your winning team."
"The challenge of every team is to build up a feeling of oneness, of dependence on one another," said Vince Lombardi. "Because the question is usually not how well each person performs, but how well they work together.""
"if you develop your people, your business is going to be more successful. It's just a matter of creating an environment where that becomes a happening every day."
I've read the book and I aspire to incorporate these principles within myself and my company in order to deliver the greatest possible consumer experience with the services I offer. But the point of all this is this; I played Rugby for Clemson, the Rugby club introduced Dabo Swinney to Sir Graham Henry, Sir Graham Henry introduced Dabo Swinney to the book "Legacy", and Dabo Swinney used the principles within to propel his team to greatness. So, essentially I'm responsible for the Clemson victory over Alabama for the national title in 2019!
But seriously, while I don't know Dabo Swinney personally, I know personal stories through close friends that attest to his extraordinary dedication, faith, and compassion. I aspire to be more like him, and to run Happy Trees the same way he runs the Clemson Football organization. Dabo inspires Clemson not to be better then their opponents, but rather to be better than the standard that they've set for themselves. Contrast that to Nick Saban's kill or be killed standard, and it becomes clear how Clemson slayed the giant 44-16 against all expectations.
Having said all that, the weather has been mild and it's a great time to plant trees! If you are thinking about planting a tree this spring, I would encourage you to go ahead and get it done now. As long as the ground isn't frozen, we can plant trees. The trees will "wake up" in your yard and you'll avoid any potential transplant shock when the trees break dormancy in the spring.
Don't forget about winter watering, which I'll discuss when the need reveals itself. Happy New Year, and have a blessed 2019!