Return To Blog
When is the best time to buy our Christmas Tree?
The best trees for Christmas I guarantee your family will cherish for the holiday season!
---
By Chris Leinster - November 18, 2018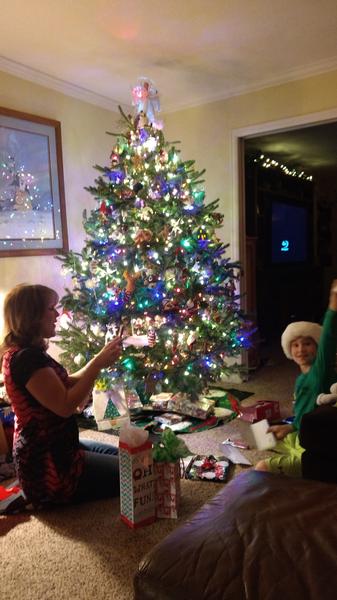 Ski lifts are spinning, cold weather is settling in, our planting season is winding down, and that means that once again the holidays are sneaking up on us! It seems hard to believe but its time to start thinking about selecting the perfect Christmas tree for your family to enjoy through the holiday season.
When is the best time to buy my Christmas Tree? Many folks believe that it's best to wait as long as possible to buy a tree so that they get a "fresh" tree that will hold onto its needles through Christmas morning. Did you know that all of the trees that will be sold this season have already been cut and are sitting in cold storage? Get your tree early so that you can get it inside and into a basin of water so it can rehydrate as quickly as possible. Hopefully it will soak up water like a sponge and the needles should hang on through new years' day.
Cells are dying every day cut trees are sitting outside and the longer they languish out of water the less likely they are to maintain their vigor for Santa's arrival. Our family tradition is to buy and decorate our tree the day after Thanksgiving. You should have a great selection of trees from which to choose and it's a great activity for the family over the holiday weekend.
What is the best variety for a Christmas tree? As you head out to the tree lot, you'll find many types of trees from which to choose. Each have their attributes and drawbacks, so here's a quick guide based solely on my experience to help you decide which way to go.
Pine: Pine have long needles and most have a deep green color. The branches tend to be widely spaced with an open habit so the ornaments have room to dangle. I fear Pine seem to dry out and the needles drop quickly indoors, so I pass over the pine in most seasons.
Spruce: What better way to celebrate than with Colorado's state tree? Needle color can range from deep green to almost florescent blue for vibrant color. Needle retention is good, but seems to be fickle and inconsistent. Stout branches hold heavy ornaments well. The biggest problem I have with Spruce is that their short stiff needles are prickly and will leave your arms shredded as you wrestle the tree off your car and into the house! I prefer to plant Spruce outside and decorate them for a living outdoor Christmas tree.
Fir: Winner winner chicken dinner! Fir have soft needles that are forgiving on the skin. There are many varieties that range from forest green to silvery blue. They guzzle water once inside and hold fast to their foliage. In fact, their needles are often still attached and as good as new when I pull them out of the burn pile in May or June the following year!
Grand Fir are deep green with needles that are arranged in flat sprays across the branches. Their open habit shows off ornaments well. Concolor Fir are native to Colorado and have a cobalt blue color. Noble Fir are green with a graceful shape. My absolute favorite is the Fraser Fir. The needles are green on top with silver undersides, and I believe them to have the best fragrance.
How do I care for my Christmas Tree? Once trees are cut, living cells seal up the wound. A fresh cut is imperative to expose healthy tissue and xylem (vascular tissue) to carry water up branches and into the needles. Many tree lots will offer to cut the trees for you, but I prefer to treat them like a flower bouquet and cut them immediately before I get them into water. Plus, I never pass a chance to break out the power tools! A chainsaw or Sawzall works wonders, but hand saws work too. Make a fresh cut an inch or two above the bottom and get them inside and into a water basin directly.
Get a tree stand with a large basin for water storage. The best types sit on a broad disc base and not three or four legs that are prone to tipping. Keep a close eye on the water level in the basin especially for the first few days. The tree can guzzle up a gallon or more when first brought indoors! It is typical for this to slow down and even stop altogether as Christmas day approaches. Mind the dogs too as they seem to love lapping water from an extra festive water bowl!
You may trim up the lower branches to make room for Christmas bounty. This will make it easier to monitor how much water the tree is drinking and to add water as well. Many tree farms sheer the trees which makes the branches grow full and thick. You can thin out the branches to open up the tree to allow for ornaments to dangle and to be seen on display.
The internet abounds with home recipes for making nutrient cocktails for your trees to drink in order to preserve their vigor. I've seen everything from bleach, soda pop, vinegar, and corn syrup. I've never had a problem with just plain water as long as I buy the tree early and make a fresh cut. The nutrient packets the florist gives you to preserve flower bouquets work as well as anything I suppose. Just never ever allow the water basin to dry up!
Can I buy live trees and plant them after Christmas? Yes, but this can be difficult. Live trees can be bought balled-and-burlapped or in containers with roots intact. They have hopefully settled into winter dormancy at the nursery and extended time inside a warm house can cause them to "wake up" and start growing. It's best to bring them inside for not more than a week or a few days. They will need to be re-acclimated before taking them back outside by putting them in the garage or somewhere where they won't freeze suddenly.
Dig the hole in the fall so you won't have to hack through frozen soil in January, and keep your excavated soil and soil amendments in the garage or somewhere they won't freeze as well. Live trees are heavy and hard to move, so consider if it's not better to buy a cut tree for Christmas and let Happy Trees plant your landscape trees as soon as the snow melts in spring! Conversely, you can plant your tree anytime and decorate and celebrate outside for the holiday.
Are Christmas Trees ethical? Yes, absolutely! Most Christmas Tree farms are in places like Oregon or Michigan where rainfall is abundant and growing conditions are ideal. Trees at the farms are every bit as beneficial to the environment as the trees growing in natural forests. They support a vibrant economy and can be recycled for mulch or burned for firewood. Most importantly, they bring joy and smiles to children's faces on Christmas morning, so enjoy your tree guilt free!
What about cutting down trees out of the forest? Trees are a renewable resource and Colorado encourages residents to harvest trees on state lands. Christmas tree cutting thins out tree stands and removes fuel for forest fires. You may be disappointed at the selection though. We look at a forest and marvel at the woodland's beauty, but finding a single perfect tree is beguilingly difficult. You may need to cut down a fairly mature tree and trim the top eight feet or so to bring into your home. Cutting trees on public land requires a permit which you can obtain at the following link: https://www.fs.usda.gov/detail/r2/recreation/?cid=fseprd562604
Shouldn't I just get one of those pre-lighted artificial trees? Sure, they're easier to set up and they're getting more lifelike each year. If it's just another chore for you and you're trying to save some hassle I suppose that's a solution. I think you're robbing your family of the experience though.

I always look forward to bundling up and bringing my boy out to hunt for our special tree. I don't mind standing each one up as he darts through the isles shouting "what about this one Dad?!" I enjoy bringing it in and setting it up, making selective cuts like an ancient Japanese Bonsai master. I prefer a little rum in my hot cocoa and watching football as we untangle strings of lights to see which ones still work after a year's storage. It's a tradition that makes Christmas a little more magical and brings the family closer together. We cut the tree up on new year's day, and the boughs make our spring fire pit fires a little more memorable. You can have your artificial tree, but for me there's no substitute for a delightfully beautiful and deliciously fragrant natural Christmas Tree!